02/23/2007
Artist to mix fantasy and dream at Gourgaud exhibit
By: Lacey Korevec , Staff Writer
CRANBURY PRESS – Packet Publication, N.E. Coast

Agnès Holzapfel Seugnet will display her works at the Gourgaud Gallery.

There is a magical, fantasy world that Agnès Holzapfel Seugnet taps into when she works. It inspires her to create circular, swirling images of people flying into a dark blue abyss with a path of birds and flowers leading the way.
"It's like I have another part of my personality, which you can see in my fantasy paintings," she said. "I feel an energy in me. I have to paint this movement, these happy people flying around."
But her reality is also like a dream. Ms. Seugnet bounces back and forth from her 15th century Renaissance castle in France, where she can frolic through fields of purple lavender, yellow sunflowers and delicate, red poppies, to her apartments in Paris and downtown Princeton.
The walls of her tiny, square living room in Princeton serve as a gallery of landscapes she sees in France and Princeton, as well as ones from Mexico, where she and her husband escape to twice a year. The room also features some of her signature fantasy works, many of which will be on display at the Gourgaud Gallery in Cranbury through March.
"I try to paint Impressionistic landscapes and seascapes of the places I love," she said.
Ms. Seugnet began drawing as a little girl in France, inspired by her mother who worked as a physician, but often sketched her children in her free time. After earning a master's degree in art at Sorbonne University, Paris, she studied painting under artist Joël Réal. In 1995, she moved to the United States with her husband, Jean-Louis, and daughter, Sophie, and began studying at Highland Studios in Hopewell. The work she did there motivated her to further her art education at Superieure des Beaux-Arts in Paris.
In a black blouse and stylish black and white vertical striped skirt, with a cup of coffee in hand, Ms. Seugnet walked about the room, explaining how some of her favorite pieces came about. One, titled "My Einstein Galaxy," shows Albert Einstein's head floating in space.
"I decided to honor him by painting his life within the galaxy," she said.
She moved her hand to the bottom right corner of the pastel image to a small fiery yellow and orange circle and then to the top left corner, pointing to a faint, blue violin.
"Here is the Big Bang and he played violin very well," she said.
That particular work also shows Einstein riding a bicycle across the moon and his famous formula, "E=MC2."
Her castle, Château d'Alba, located in Alba-la-Romaine, on the Atlantic coast of France, is a historic monument that Ms. Seugnet owns with her siblings. The building, which overlooks vineyards and a small village, shows up in a number of her paintings. She also often captures a more widely known structure, the Eiffel Tower.
One of her oil paintings, "Happiness is Contagious" shows a female figure flying through the universe and embracing the Eiffel Tower, as a gust of poppies breeze past. Ms. Seugnet said she includes poppies in many of her paintings because the flower symbolizes happiness.
"It's so fragile," she said. "Once you cut it, it dies. They are like happiness. Happiness is also fragile. Once it's here, you must catch it, otherwise it flies away. With my paintings, I like to share a sense of happiness."
Ms. Seugnet paints every morning in her apartment, with classical music playing in the background and sunlight pouring through the windows into her small, bright living room. She said working on her art is her own form of meditation.
"For an artist, creation is a kind of state of grace," she said. "In order to create a painting, an artist must feel no conflict within himself. He must feel poised, peaceful."
Though her art is often considered to be Impressionistic — and some of it is — Ms. Seugnet said she prefers another term for her fantasy paintings.
"The word Impressionistic, I think, applies much more to landscapes," she said. "And for my fantasy world, I prefer 'poetic' because the Impressionists did not paint in that style."
Ms. Seugnet used to dedicate much of her time to writing poems, but has since abandoned the art form to focus all of her energy on her paintings.
"I can say much more in a painting than in a poem," she said.
And as a woman who is fluent in four languages — French, English, German and Spanish — Ms. Seugnet also appreciates visual art for another reason.
"A painting doesn't have to be translated," she said, adding that she published a book in French about her mother and a boy she saved during World War II, titled "Petite Claude: The Orphan of Auschwitz," which was later translated into English. "Painting is international. It's a universal language," she said.
If her name sounds familiar, it's because Ms. Seugnet's work was displayed at the Gourgaud Gallery in December as part of the "Cranbury Gardens IV" exhibit, which showed paintings from the Cranbury Arts Council's plein air Art in the Park program.
Having her own exhibit at the gallery comes at no better time, she said, since she and her husband are leaving Princeton and the United States inn June to live in France full time, where her daughter already resides.
"It's kind of a retrospective for me, as I've been living here for 12 years," she said, adding that the gallery is large enough to display a variety of her works, including landscapes, seascapes, poetic, fantasy works and nudes.
Ms. Seugnet works on nude paintings at live workshops in Paris and Princeton. She said being able to paint people is crucial, even for artists who mostly concentrate on landscapes.
"It's important to know the human figure," she said. "It's important to be able to paint these wonderful nuances on the human body, on the flesh. The light plays beautifully on the body as well."
She said she also likes painting interpretive images of exotic fish in the sea.
"For me, it's a little like painting the stars and the galaxy," she said. "The undersea world is very poetic. It's sort of magic with all the colors and corals."
The First Friday reception for "Agnès Seugnet: Oil & Pastel Paintings" will be held March 2 from 6 to 8 p.m. at the Gourgaud Gallery, located in Town Hall on North Main Street, Ms. Seugnet will be at the reception and will also be in the gallery every Saturday and Sunday throughout the month from 12 p.m. to 3 p.m. to speak with viewers about her art.
To learn more about Ms. Seugnet and her work, visit her Web site at www.agnesseugnet.com.
©PACKETONLINE News Classifieds Entertainment Business - Princeton and Central New Jersey 2007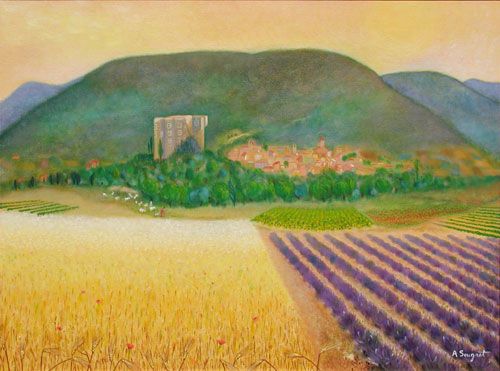 "The Village and Castle of Alba, Ardèche, France"

---
Dreams Come True
By: Ilene Dube , TIMEOFF
PRINCETON PACKET - Packet Publications, N.E. Coast
Having fulfilled many of her wildest wishes, Agnès Holzapfel Seugnet paints fantasy scapes from Paris to Princeton.

Agnès Holzapfel Seugnet is one of those artists who didn't pick up a paintbrush until later in life, but when she did, a world poured forth onto the canvas.
"You are not born an artist, you become one," says the French native, surrounded by fantastical visions in oil on the walls of her Princeton apartment. "It takes many years to accumulate experiences and emotions, and admiring the work of the masters — you have to study them before you start."
Ms. Seugnet's paintings are in a group exhibition at the Gourgaud Gallery in Cranbury through Dec. 22. She will have solo shows at the Princeton University League Art Gallery in February, and again at the Gourgaud Gallery March 2 to 30.
Chagall and Monet are among the masters Ms. Seugnet admires, but it is perhaps her strong-willed mother who inspired her most. "She was called the female Napoleon," Ms. Seugnet says of her mother. "She had so much energy and looked 10 to 15 years younger than she was."
Over Ms. Seugnet's sofa is a painting of what looks like a fairytale castle — it is the family chateau in the south of Lyon, France. One of the Three Musketeers films was shot on location here. Built as a small castle in the 12th century, it was enlarged and fortified in medieval times. Lisette Holzapfel, a physician and single mother, bought the chateau in 1974. She had her work cut out for her, restoring the 35-room palace.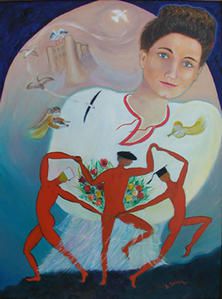 "She loved poetry and the theater, going to museums — she had a lot of fantasy, her life was like a story," says her daughter. Ms. Holzapfel wrote poems, played the piano and drew, and she opened the chateau to the public for concerts, exhibitions and theatrical productions. "I grew up in that artistic environment," says Ms. Seugnet.
The painter so adored her mother, she began writing a book about Ms. Holzapfel in 1993, just after her death: Petit Claude: The Orphan of Auschwitz and His French Rescuers (Xlibris, 2001, translated to English by Ann Keay Beneduce). Ms. Seugnet relates the story with such drama, a listener can get as caught up in it as if watching a movie.
Four-year-old "Petit Claude" was rescued from a Nazi prison by a relative of Ms. Seugnet en route to Auschwitz, where both his parents were killed. Ms. and Mr. Holzapfel took in Petit Claude and raised him as their own to hide him from the Nazis.

"In Praise of my Mother."
They sent him to school and to Boy Scout camps, and secretly fought in the French Resistance.
When the war ended, Petit Claude was 7, and a grandmother who had survived the Holocaust came to claim him. Ms. Seugnet's parents, who had come to love him as their own, were heartbroken. "It was a wound that never healed," recounts Ms. Seugnet. Petit Claude was relocated to what has become Israel, but tragically, his grandmother couldn't afford to keep him and sent him to live on a kibbutz in a foster situation. "Forty people in his family had been killed during the war.
"All our lives, my mother mentioned Petit Claude affectionately, but the contact had been lost," continues Ms. Seugnet, who was one of five siblings. Just three months before her mother died, a light went off inside Ms. Seugnet: She had to find Petit Claude — who was no longer "petit" but in his 50s. He had changed his name to Uri Blum, and this made it more difficult to find him, but find him she did just in time to reunite the family while her mother was alive. During the reunion dinner in Paris, she played Beethoven's Ninth Symphony — Ode to Joy. Ms. Seugnet was so filled with emotion that night, she turned on her computer and wrote and wrote for nine months until the story unfolded. "He'd told me of so many wondrous memories," she says.
Prior to the book, Ms. Seugnet had only written poetry. After earning a master's degree in German education from the Sorbonne, Ms. Seugnet came to the U.S. with her backpack and traveled from the Galapagos to Iceland and South America. On two, six-month-long trips, she had taken so many photographs, she established a darkroom in Paris and subsequently won a Kodak Portrait Award. She took time off to raise her daughter, Sophie, born in 1983, then worked as a translator for Bertelsmann Publishing Co. When the family moved to Princeton in 1995, she worked teaching French to adults at Inlingua and met Ann Beneduce, an advanced student who was there to practice. Ms. Beneduce asked for something to read in French, and Ms. Seugnet gave Ms. Beneduce, a writer and publisher, her book on Petit Claude.
Ms. Seugnet describes this as her "dream-come-true in America." Not only did Ms. Beneduce ask to translate the book to English, but she introduced Ms. Seugnet to Karen McLean Peterson at Highland Studios in Hopewell. Before then, Ms. Seugnet had made charcoal sketches, but at Highland Studios, she learned to paint in watercolor, pastel and oil.
"Inside, I knew I needed to express myself and that one day I'd start painting," she says, recounting how, in her youth, her mother had an exhibit of the painter Joël Réal every summer, and she would quietly observe him, "learning by osmosis." She also served as a model for Mr. Réal.
"When I came to this country, I went into culture shock," says Ms. Seugnet. "I was discovering the national parks, and I wanted to express this beauty and my feelings." In addition to painting, Ms. Seugnet wrote 60 poems and printed them in little booklets.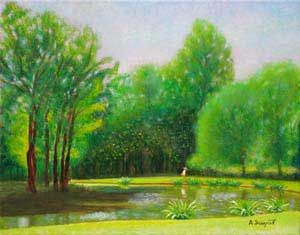 Ms. Seugnet says she found her style as a painter in 1997, when she painted the four seasons: the D&R Canal in fall, with red and golden maples reflected in the water; winter in her snow-covered backyard, with pine trees and cardinals; cherry trees blooming at Brook Branch Park in Newark; and for summer, "Jean-Louis, the Thinker at the Institute for Advanced Study."
"This painting is an homage to my husband, Jean-Louis," she writes. "The man thinking and walking in the back could be Jean-Louis, or my father, or Einstein, maybe the three of them, three men I admire."
"Jean-Louis, The Thinker at Princeton Institute"

Ms. Seugnet believes it is important to paint in your time, in your place, and so Einstein has become an important figure for her in Princeton. She painted him again in "My Einstein Galaxy," a print of which hangs in the Einstein Museum at Landau's woolen goods store in Princeton. In the painting, Einstein is playing the violin in the Milky Way, and in another vignette he rides his bicycle and smokes a pipe.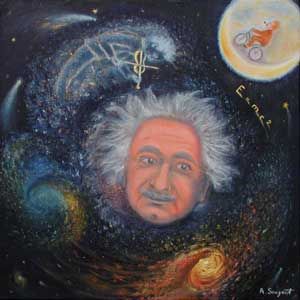 "He's not wearing socks," says Ms. Seugnet, "just Birkenstocks. I read that he didn't wear socks because he didn't want his scientist wife to have to darn his socks." (Editor's note: Although the Historical Society of Princeton could not confirm Einstein wore Birkenstocks, there was a reference to the physicist telling a young boy, "I've reached an age when if somebody tells me to wear socks, I don't have to.") The painting also is an homage to her father, a great admirer of Einstein. "My grandfather took him to Berlin to attend a conference given by Einstein when my father was only 12 — he didn't understand, but always looked up to him."

"My Einstein Galaxy"

Ms. Seugnet spends a good amount of time on planes, traveling back and forth to France, Mexico or the Caribbean, and packs her charcoal, pastel, sketch pads, pastel paper and tracing paper to keep the pastels from smudging. She makes a pastel painting on location, then works it up in oil back in her studio.
In 2002, Ms. Seugnet returned to Paris for a year and studied at the Ecole Nationale des Beaux-Arts, where Degas, Delacroix, Ingres, Monet, Renoir and Sisley received their training. She says the most important thing she learned while there was "to see; to look at nature or a model and look in depth and accurately, to try to look at the object and not the painting. The eyes focus on what you see and you have to train the hand to paint without looking to make that good connection between the brain and hand. Beginners don't see nuances — that takes years."
Of course there's so much more. "My mother gave me a rich internal life from which these images come," she says. "A little child has to be silent and accumulate information before he speaks, and I had to observe the masters before I could even start."

Cranbury Gardens IV, Works from Art in the Park, a group exhibition including paintings by Agnès Holzapfel Seugnet, is on view at the Gourgaud Gallery, Cranbury Town Hall, 1 Schoolhouse Lane, Cranbury, through Dec. 22. Gallery hours: Mon.-Fri. 9 a.m.-4 p.m., Sun. noon-3 p.m. For information, call (609) 395 0900, ext. 241. On the Web: www.cranburytownship.org/gourgaud_gallery.html. Recent Oils and Pastels — Giclee Prints and Art Note Cards, a solo exhibit by Ms. Seugnet, will be on view at the Princeton University League Art Gallery, 171 Broadmead, Princeton, Feb. 10-11 and 17-19; gallery hours TBA. Agnès Seugnet: Retrospective of 12 American Painting Years will be on view at the Gourgaud Gallery March 2-30. Reception: March 2, 6-8 p.m. Ms. Seugnet on the Web: www.agnesseugnet.com
©PACKETONLINE News Classifieds Entertainment Business - Princeton and Central New Jersey 2007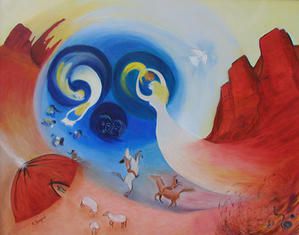 "Sophie in Arizona"

---
01/15/2007
The Princeton University League
Princeton University | Campus Interactive map | Academic Calendar | Princeton Weekly Bulletin | Point (campus login required)
Art Exhibit
University
League Art Gallery
171 Broadmead Street
, 2nd Floor
Princeton, New Jersey 08540
609-258-3650


Art by Agnès Seugnet
Art Exhibition Hours:
Saturday, February 10, 11:00 - 6:00 p.m.
Sunday, February 11, 1:00 - 6:00 p.m.
Saturday, February 17, 11:00 - 6:00 p.m.
Sunday, February 18, 1:00 - 6:00 p.m.
Monday, February 19, 11:00 – 6:00 p.m.
Reception:
Saturday, February 10, 4:00 - 6:00 p.m.
Sunday, February 11, 4:00 - 6:00 PM

Princeton University League Art Gallery
"Whirlwind of Poppies" is among the works on view Feb. 10-19 at the University League Art Gallery, 171 Broadmead St., as part of an exhibition, "Agnès Seugnet: Oils and Pastel Paintings, Giclee Prints, Note Cards."
Seugnet was born in Lyon, France, and educated at the Sorbonne and the Ecole Nationale des Beaux-Arts in Paris. She currently resides in Princeton.
Hours for the exhibition are 11 a.m. to 6 p.m. Saturdays, Feb. 10 and 17 and Monday, Feb. 19; and 1 to 6 p.m. Sundays, Feb. 11 and 18. An opening reception is set for 4 to 6 p.m. Saturday and Sunday, Feb. 10-11.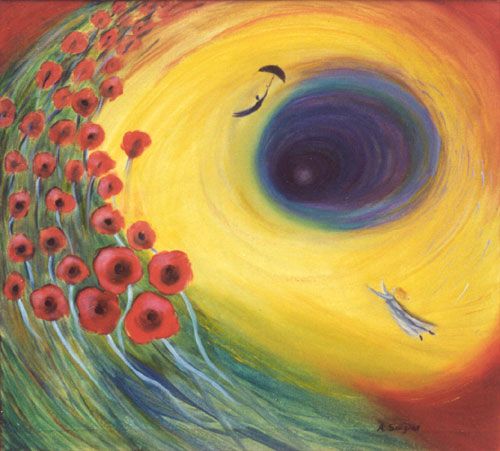 "Whirlwind of Poppies," by Agnès Seugnet


---